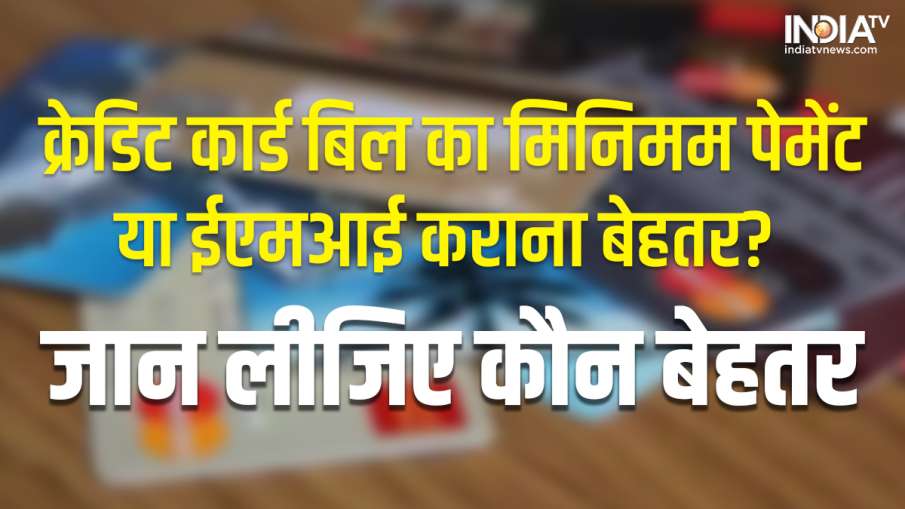 digital payment In this era of credit card has become an important necessity. Due to this, in today's time, most of the people definitely have credit of one or the other bank. Many people also have more than one credit card. We all use credit cards for shopping, ticket booking, hotel booking and making small and big purchases. Many times it also happens that we buy more than our budget. In that case we are not able to pay the due bill at once. In that situation, many people opt for minimum due payment. However, it is a loss deal. Banking experts say that after purchasing a large amount, it is more beneficial to opt for EMI instead of minimum due payment. Come on, know how?
Banks charge up to 48% interest
Banking experts say that after big purchases, it is better to pay the bill in EMI instead of minimum due payment. This is because when one pays the minimum due payment, the bank charges interest ranging from 30% to 48% per annum on the balance. Also banks charge interest from the date of purchase and not from the billing or due date. Due to this, the consumer is not able to take advantage of the interest period of 45 days on the credit card. At the same time, banks charge interest ranging from 12 to 15% only on paying EMI of the outstanding bill. Along with this, there is also the benefit of a structured payback schedule.
Keep these 4 things in mind while converting EMI
Interest rates and charges: Different banks charge different interest and charges for converting credit card bill into EMI. Hence, before choosing an EMI, evaluate your financial situation and understand the terms and conditions.

Prepayment penalty: If you wish to close the EMI before the end of the tenure, check whether the lender charges any prepayment penalty.

EMI Tenure: Choose a tenure from which you can easily pay the EMIs. Always try to choose a lower EMI tenure. By doing this, you will be able to save a huge amount in the form of interest.

Rewards and cashback: Converting credit card bills into EMIs can result in loss of rewards and cashback benefits. Check it before doing EMI.
what is minimum dew
If you look carefully at your credit card bill, then you will see the full amount of the bill. Along with this, the option of Minimum Amount Due will also appear in the next box. Minimum amount means that if you are not able to pay the entire bill, then you can pay even that amount. Normally the minimum amount due is 5% of your total outstanding.
Can get trapped in debt trap
Paying only the minimum amount due on the credit card bill can land you in a debt trap as this amount is used for the payment of interest and not the principal amount. Interest will continue to be charged till you clear your due completely. This is how you keep getting trapped in the debt trap. Along with this, there is also a risk of deteriorating the CIBIL score.