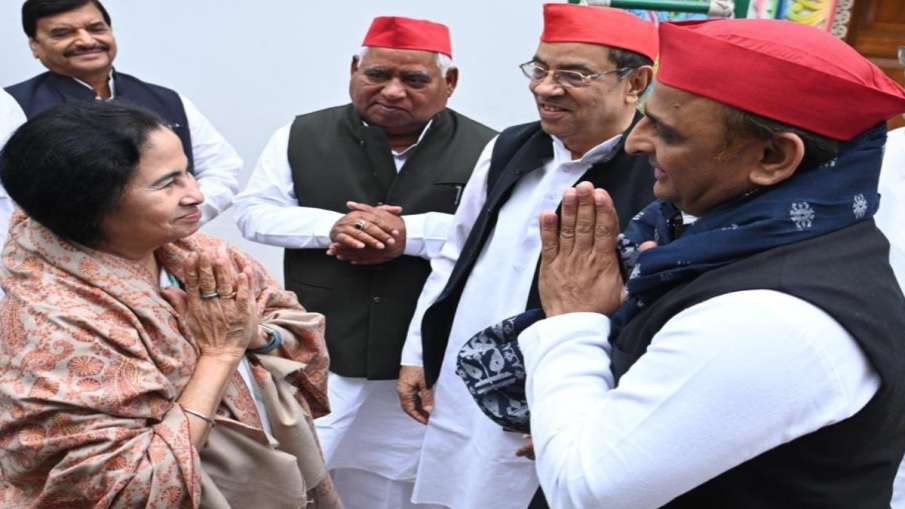 West Bengal: Samajwadi Party chief Akhilesh Yadav met West Bengal Chief Minister Mamata Banerjee in Kolkata on Friday and began discussions on an opposition alliance ahead of the 2024 Lok Sabha elections. Akhilesh took the names of Telangana Chief Minister K Chandrasekhar Rao, Tamil Nadu's MK Stalin, Bihar's Nitish Kumar and West Bengal's Mamata to say that chief ministers of several states are trying for an alliance that will work together. Akhilesh Yadav hinted, "The Congress should decide its role with regard to the elections, the name of the alliance will be discussed later."
Trinamool MP Sudip Bandyopadhyay, however, said that the Trinamool Congress would go its own way and was not thinking of a third front as of now. He made it clear that the TMC would not go with the Congress as he said that the Congress should not believe that he is the 'Big Boss' of the opposition.
Sudeep said, "We will go our own way, keeping distance from the Congress and the BJP. We are not talking about forming a third front as of now… The Congress should not feel that it is the big boss of the opposition front." Bandyopadhyay said that Mamata Banerjee would meet leaders of other regional parties in the coming days.
Senior SP leader Kiranmoy Nanda confirmed that the Samajwadi Party and the Trinamool Congress have agreed to work unitedly to fight the BJP. Both the parties will keep distance from the Congress as well, Nanda told PTI. Akhilesh Yadav said , "Regional parties are capable of deciding their role. Congress has to decide its role. No one should take any step which will have any adverse effect (on fighting the BJP)." To come before the 2024 Lok Sabha elections. "Front. Alliance, alliance whatever you call it," said Akhilesh.
While addressing a gathering of workers in Kolkata, Akhilesh Yadav congratulated the people of West Bengal for defeating the BJP. Yadav said, "I congratulate the people of Kolkata for defeating the BJP and voting for Didi. The Samajwadi Party will do everything to save the Constitution. The BJP is accusing the Congress of defaming the country, but UP's The CM has also insulted the Constitution, BJP should listen to this."
read this also:
VIDEO: Atiq's son Asad is running back after killing Umesh Pal along with his fellow shooters and bomber Guddu Muslim, see
Delhi liquor scam case: Manish Sisodia's allegation- These ED people do not ask anything, the judge gave a funny answer