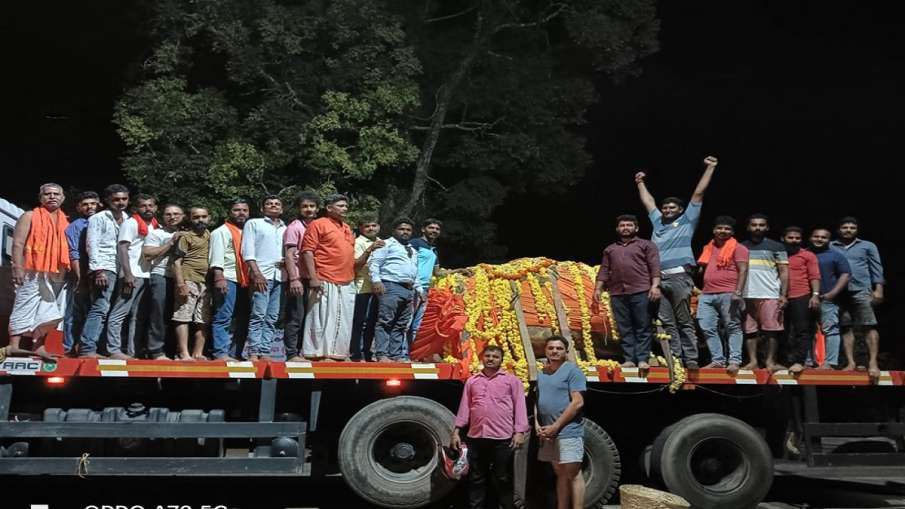 Karnataka News: Preparations for the Pran Pratishtha ceremony of Ramjanmabhoomi have started in full swing in Ayodhya. Meanwhile, for the construction of the idol of Ram Lala in Ayodhya, a huge rock has also been sent from Karkala in Karnataka to Ayodhya Shri Ram Janm Janmabhoomi Ayodhya. Workers of Vishwa Hindu Parishad and Bajrang Dal left it for Ayodhya in a huge truck after Shila Puja late Thursday evening.
Along with Nepal, stones are being brought from many parts of the country.
On behalf of the trust, stones are being brought from different parts of the country along with Nepal to make the idol of Ram Lalla. The work of making the idol has been entrusted to 5 artisans of the country. According to the information, whichever rock out of these rocks will make the divine and grand idol of Ram Lala, that idol will be enshrined.
The stone was selected from this place in Karnataka
This stone has been selected from a small hill built on the banks of the Tungabhadra river in the Karkala region of Karnataka. The people of the village along with Hindu organizations worshiped the rock with great enthusiasm and sent it to Ayodhya.
Significantly, VHP's National General Secretary Milind Parande has made a big disclosure on his part about when the Pran Pratishtha will happen in Ramjanmabhoomi Ayodhya. Vishwa Hindu Parishad's National General Secretary Milind Parande said about the Pran Pratishtha work in Ram Janmabhoomi Ayodhya that 'after Makar Sankranti, the work of Pran Pratishtha will be completed in Ram Janmabhoomi Ayodhya within 15 days. Lakhs of people will participate in that life prestige.
During the last Ram Janam Utsav, 25 to 40 lakh people had reached for darshan, so now devotees will reach Ayodhya on a larger scale during Pran Pratishtha. Seeing the preparation of Pran Pratishtha and the longing of the devotees to come during this time, its preparation has already started. There is preparation for consecration of life in Uttarayan.