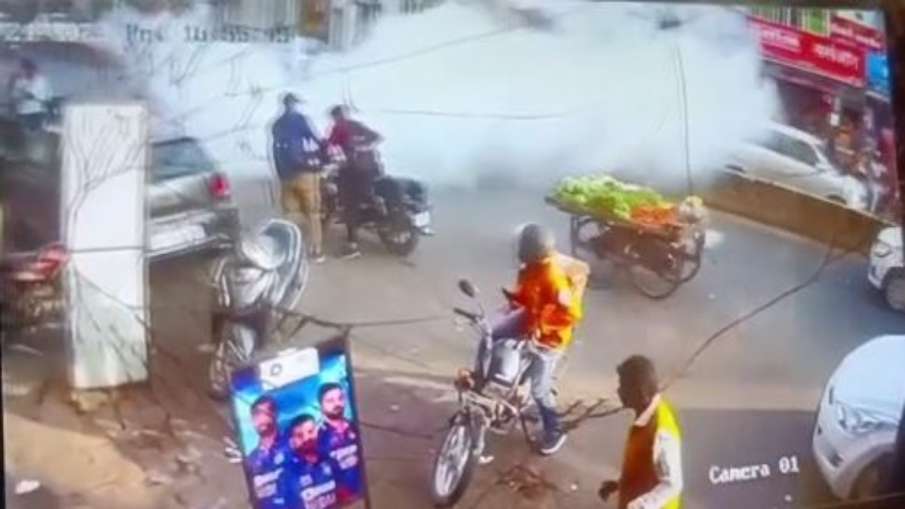 Prayagraj: India TV has got a new CCTV footage of Umesh Pal's murder. This video is of February 24, when Atiq's son Asad along with his fellow shooters and bomber Guddu Muslim is running back after killing Umesh Pal. In the video, a white colored car is seen going and a bike is coming behind it. Guddu Muslim and Armaan are seen on this bike. Guddu is sitting behind the Muslim bike and throws bombs from the moving bike, causing panic among the people on the road. After the murder of Umesh Pal, even when the shooters were running away, they were hurling bombs so that people would panic and no one would dare to catch them.
Please tell that on February 24, Umesh Pal, the witness of Raju Pal's murder in Prayagraj, was murdered in public. Umesh was attacked when he was returning from the court. About 15 cameras have been installed on every street and road of Umesh Pal's house. The entire incident of Umesh Pal's murder was captured in 5 cameras on Umesh's street and road, in the footage captured in these cameras, everything is visible as how Umesh Pal gets down from the car, a barrage of bullets starts on him, then Bombs start hurling at them immediately. When Umesh runs into the street to save his life, Asad pushes Umesh, then fires and Guddu Muslim attacks him with a bomb from behind.
Bombs and bullets are also fired at the two gunners of Umesh Pal. This whole incident is executed in 47 seconds. In this new video found, Asad is seen running away in a white vehicle without number along with his fellow shooters and Guddu Muslim and Armaan are seen running away on a motorcycle. This video is being told to be some distance away from Umesh Pal's house.