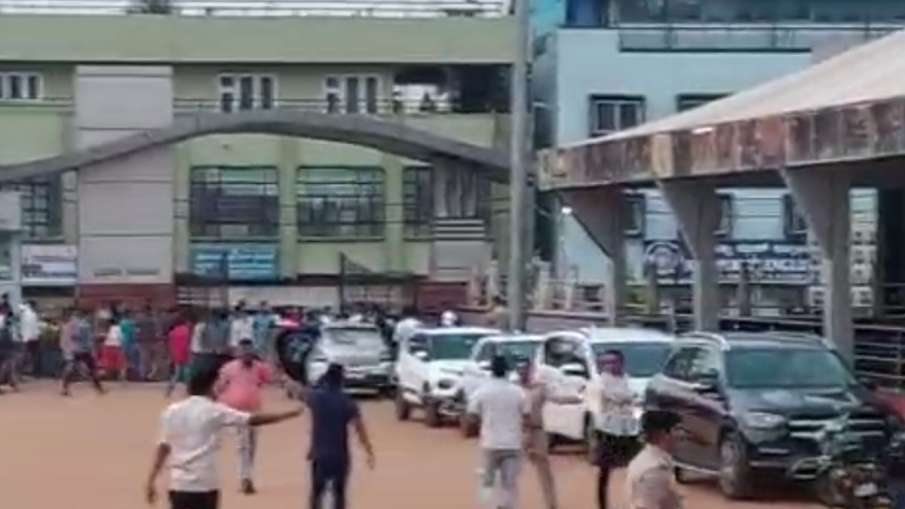 Bengaluru: BJP and Congress supporters clashed over a political program in Govindaraj Nagar area of ​​Karnataka's capital Bengaluru. The quarrel between the two escalated to such an extent that stone pelting started in which some people including a policeman were injured. According to information received from the police, a program 'Stree Shakti Sammelan' for women was to be organized by the Congress in Bengaluru on Sunday at the BGS ground in Govindaraj Nagar. Late on Friday evening, when he reached the ground to put up the hoarding of the programme, he was stopped by alleged BJP supporters from doing so.
Fierce clash between the two groups in the field
According to reports, BJP The supporters were claiming that they too have to organize a program in this ground on Sunday, hence the ground cannot be given to another group. Although Congress supporters say that they had taken administrative permission for this program. A dispute started in both the groups regarding this matter and the matter reached to a fight. The people inside the ground suddenly started pelting stones at the people standing outside, to which the people standing outside also responded and opened the gate of the ground and entered inside.
'Police lathi-charged the crowd'
The number of policemen in the ground was less, that's why the crowd could not be controlled. To control the situation, additional force was immediately called there and the crowd was chased away by mild lathi charge. In this case, the police have so far registered 3 FIRs, and the matter is being investigated. Giving information about the case, Bengaluru's West Zone DCP Laxman Nimbargi said that on March 19, a person named Umashankar had taken permission from BBMP to organize 'Stree Shakti Sammelan'.
'Supporters started gathering outside the ground'
The DCP said, 'When they came to put up posters for this program at the BGS ground, people from other groups already present there opposed it. Both the groups started arguing again, the policemen present on the spot separated the two groups after the conversation. Later, supporters of these groups gathered outside the ground and started throwing stones at each other. The police dispersed the crowd by lathi charge. Some people including 2 policemen have suffered injuries in this incident and legal action is being taken against those responsible.