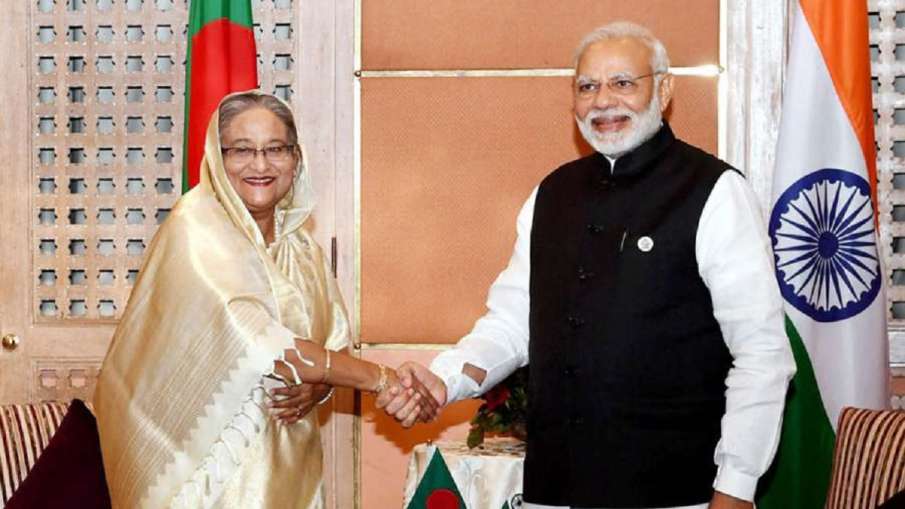 New Delhi: China has been putting strings on India's neighboring countries. Be it Nepal, Sri Lanka or Bangladesh. But Bangladesh understands China's ploy. This is the reason why he gives more importance to the traditional relationship with India. A new chapter of this mutual relationship started on Saturday when India's PM Narendra Modi and Bangladesh's PM Sheikh Hasina inaugurated the 'India-Bangladesh Friendship Pipeline'.
Prime Minister Narendra Modi and Bangladesh PM Sheikh Hasina on Saturday inaugurated the Rs 377-crore pipeline project 'India-Bangladesh Friendship Pipeline' to supply diesel to northern Bangladesh. After this project, the cost of supplying diesel from India to Bangladesh will be reduced and carbon emissions will also be reduced. Modi said during the inauguration that a new chapter in India-Bangladesh relations would begin with this pipeline.
Prime Minister Modi said that at present, diesel is supplied from India to Bangladesh through a 512 kilometer long rail route. The 131.5 km long pipeline will supply one million tonnes of diesel every year from Numaligarh in Assam to Bangladesh. He said that this would not only reduce the transport expenditure, but also reduce carbon emissions.
"This pipeline is especially important in the context of many developing countries struggling for fertilizer and energy security," he said. The construction of the pipeline project started in 2018. This is the first cross-border energy pipeline between the two countries. It has been built at a cost of about Rs 377 crore, of which Rs 285 crore has been spent on laying the pipeline in Bangladesh. India has spent this amount under grant aid.
The foundation stone of this pipeline was laid in 2018
The foundation stone of this pipeline was laid by both the Prime Ministers in September, 2018. Numaligarh Refinery Limited has been supplying petroleum products to Bangladesh since 2015. Prime Minister Modi thanked Sheikh Hasina for her constant suggestions regarding the project and expressed hope of working further for the benefit of the people of both the countries.
He said that the work on the pipeline continued despite the Covid pandemic and this would reduce the transportation expenditure. Along with this, carbon emissions will also be reduced by supplying diesel through this route as compared to the alternative route. He said, "Reliable and sustainable diesel supply will be beneficial for the agriculture sector. Industries will also benefit from this.
The development of both countries will gain momentum: PM Modi
Prime Minister Modi said, "This pipeline will accelerate the development of Bangladesh and will prove to be a great example of increasing connectivity between the two countries." Referring to the energy trade between the two countries, he said, "Petroleum trade in both countries has crossed one billion dollars." Bangladesh is India's largest development partner and largest trading partner in the region.