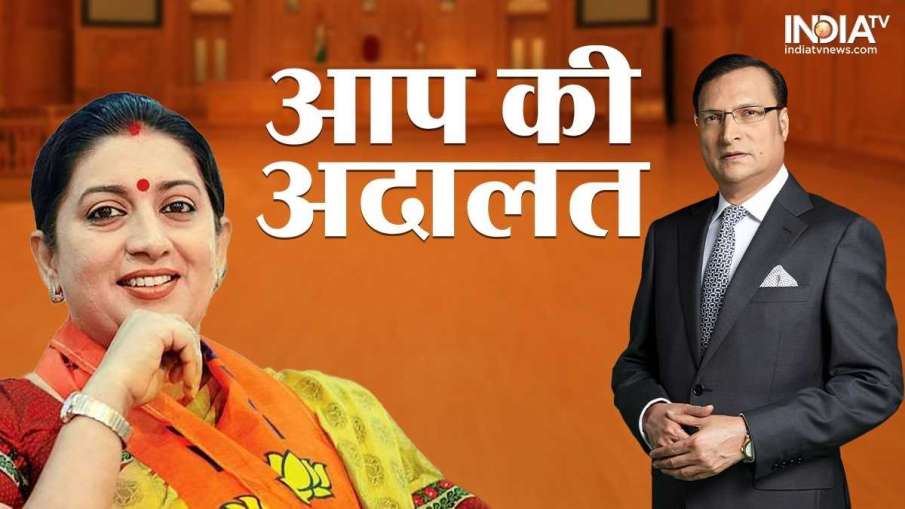 New Delhi: Union Women and Child Development Minister Smriti Irani, who has sharply criticized Congress leader Rahul Gandhi, has said that she is not able to find time for 'saas-bahu' as she is currently busy with 'maa-beta'. He said this indirectly in reference to Sonia and Rahul Gandhi. She was answering a question of Rajat Sharma in the show 'Aap Ki Adalat' to be aired tonight at 10 pm on India TV.
Rajat Sharma asked, 'Smriti ji, many forms belong to you..but you have ruled the hearts of people by becoming Tulsi for 8 years, people also miss you a lot..do you also miss?'
Smriti Irani said that 'Rajat ji, there is no time for mother-son, so there is no time for mother-in-law and daughter-in-law. I think there are very few people who are blessed by God that they are born in a family that does not have even 200 rupees and when a girl child is born, people say that perhaps a girl child is written in her destiny. Will be given only marriage, will not be able to do anything. If such a girl can contribute not only in the country's politics but also in the country's media, then I think that being a woman, I will not call it pride, but I will call it the pride of every girl that whenever you challenge us, Then daughter of India, girls from ordinary families of India also have this kind of skill. She also has this kind of courage. Somewhere or the other the grace of the Lord is also on him.
Smriti Irani played an important role of Tulsi in the TV serial 'Kyunki Saas Bhi Kabhi Bahu Thi'. This serial ruled the world of TV entertainment from 2000 to 2008. This serial got closed in 2008. The serial was woven around a rich Gujarati Virani family and Smriti Irani played the role of an ideal daughter-in-law in that serial before joining politics.
read this also-
'Rahul first answer my 5 questions regarding Adani', Smriti Irani said this to Rajat Sharma in 'Aap Ki Adalat'
Why did Smriti Irani say this in 'Aap Ki Adalat', 'Modiji kept quiet, because he is a pradhan sevak, he has to drink every drop of poison'?