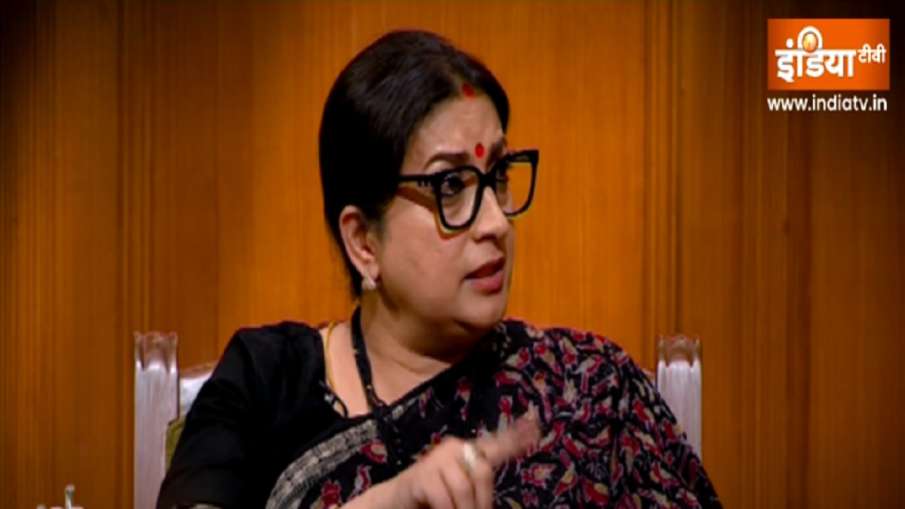 New Delhi: In Rajat Sharma's popular show 'Aap Ki Adalat', Union Minister Smriti Irani has fiercely attacked Rahul Gandhi and Congress. Smriti hits out at Congress and Rahul Gandhi for making personal attacks on PM Modi and his dead parents, says 'A Congress leader in Punjab said Adani-Ambani only 'excuse', main target: Modi put an end to Rahul Gandhi did not raise any objection to this statement. The Congress leader sat near the plane at the Delhi airport and raised slogans – 'Modi teri kabr khudegi'. They want to see the power of democracy, Congress's own people are openly threatening to kill the Prime Minister.
Smriti said that in spite of all this, our prime servants do their work with a smile. Are the Prime Minister's dead parents made fun of? What did the Congressmen do when Modiji's mother died at the age of 100? I want to ask the youth sitting here (in this show) what will you do if someone abuses your parents? will you keep quiet But Modiji remained silent because he is the Pradhan Sevak. They have to drink every drop of poison every day.
Smriti said that eight years ago it was called 'Smriti Kaun'? By God's blessings the same memory, about whom he used to make disparaging remarks and refused to acknowledge his personality, has now become a headache for him. That whole army is behind a small MP from Amethi. This is his sore spot. I destroyed their 40 year old empire in Amethi. The man whom they were eulogizing as the uncrowned king of his political legacy is now walking the streets. I dare to challenge them and I am ready to face the punishment.
read this also-
'Rahul first answer my 5 questions regarding Adani', Smriti Irani said this to Rajat Sharma in 'Aap Ki Adalat'
In 'Aap Ki Adalat', Smriti Irani told Rajat Sharma, 'I can't spare time for mother-in-law and daughter-in-law, because I am busy with mother-son'