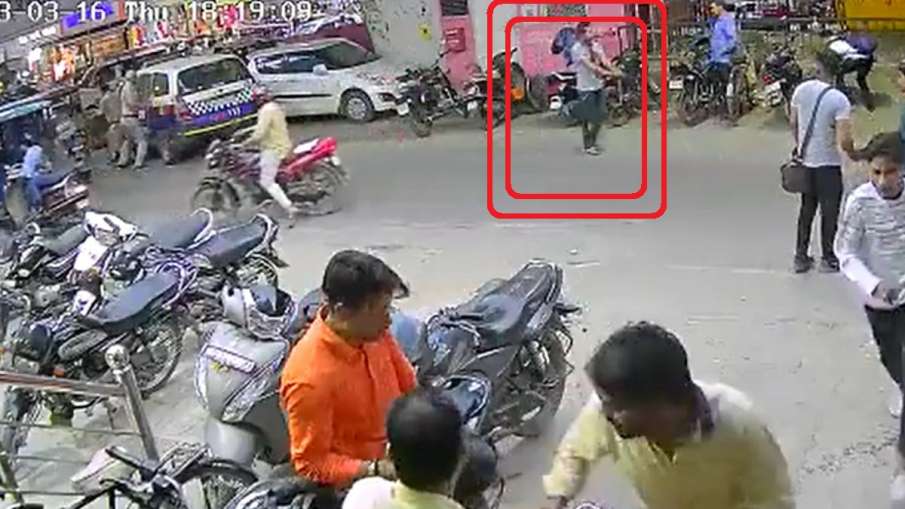 A very shocking and disturbing video has come to light from Delhi's MS Park area. A CCTV footage has emerged from a market in MS Park area. It is seen that a person whose throat is bleeding. His entire clothes are stained with blood and he is running openly among the people with gun and knife in his hand. As the people present there saw this, everyone got scared and there was chaos all around. Later the police overpowered this person.
man slit his throat with knife
Regarding this CCTV video, Delhi Police said that on March 16, two PCR calls were received at MS Park Police Station at 6:40 pm and 6:50 pm. Police were called to report that a man had slit his throat with a knife. As soon as the police got information about it, a PCR immediately reached the spot. But as soon as the police reached there, the matter turned even more upside down.
firing from police pistol
According to the Delhi Police, when the public and the police tried to overpower him at Nathu Colony Chowk, the man also injured a police officer. Not only this, he also snatched the pistol of the policeman and then fired one round. After this, the person kept running in the public near Nathu Colony Chowk carrying a knife and a police pistol. Later the police caught him and recovered the pistol from his possession.
Person undergoing treatment in hospital
Delhi Police told that the name of this person is Krishna Sherwal, he had slit his throat with a knife. During this he also fired. Police informed that this person named Krishna Sherwal is currently undergoing treatment in a hospital. A case under sections 307/394/397/186/353 IPC and 27 Arms Act has been registered at MS Park (Mansarovar Park) police station.
read this also-
Army encounter with terrorists in Jammu and Kashmir's Pulwama, 2 terrorists hiding in the jungle
Russia called the arrest warrant against Vladimir Putin 'toilet paper', gave this answer