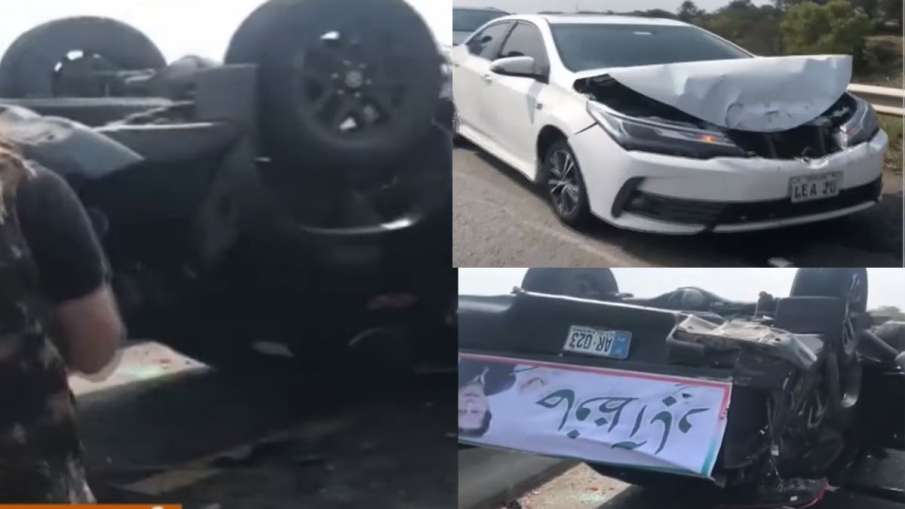 Today there is upheaval in Pakistan from Lahore to Islamabad. Former Prime Minister Imran Khan has a muscle in Islamabad, but on the way there was an accident in Imran's convoy. Three vehicles of Imran's convoy collided with each other. Imran narrowly escaped in the accident. There was no damage to his car. Let us tell you that Imran was to appear in the Toshakhana case in a short while and if there is no relief from the court, then Imran Khan can be arrested today itself.
The vehicles of former Pakistan PM Imran Khan's convoy collided with each other. Imran Khan is completely safe in the accident. Imran Khan was on his way from Lahore to Islamabad to appear in the Toshakhana case when the incident took place.
There was a fatal attack on Imran last year
Explain that the Islamabad administration had imposed Section-144 in the capital on Friday night, under which private companies, security guards or other individuals are prohibited from carrying arms. Imran had a fatal attack in November last year. In a hearing last Thursday, the court rejected Imran's plea seeking suspension of the non-bailable arrest warrant issued against him. However, the Islamabad High Court on Friday suspended the non-bailable arrest warrant issued against Imran and gave him an opportunity to appear before the district court hearing the Toshakhana case on Saturday.
What is Toshakhana? Why is Imran trapped?
Toshakhana established in 1974 is a department under the administrative control of Cabinet Division. The Toshakhana houses the valuable gifts received by Pakistani rulers, parliamentarians, bureaucrats and officials from governments of other countries, heads of states and foreign dignitaries. Imran Khan has been in controversy for buying gifts from this toshakhana, including an expensive wristwatch. It is alleged that he bought this watch from Toshakhana at a discounted price and then sold it and made a profit. Imran Khan was disqualified by the Election Commission of Pakistan in October last year for not sharing details related to the sale.
read this also-
Russia called the arrest warrant against Vladimir Putin 'toilet paper', gave this answer
First cut his own throat, then snatched the police gun and fired in the middle of the market, CCTV video surfaced