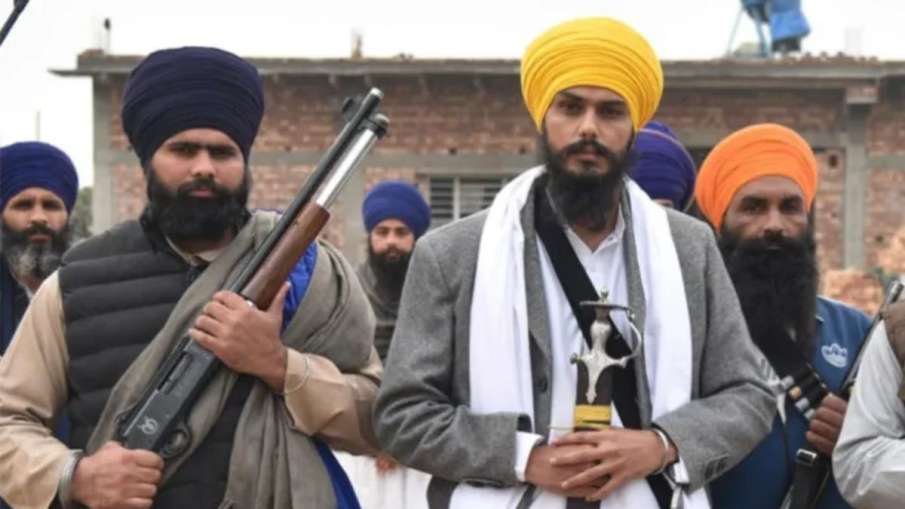 Amrit Pal Singh: Amritpal Singh, the head of the pro-Khalistan organization 'Waris Punjab De', has been declared a proclaimed offender by the Punjab Police. The Punjab Police is conducting raids at various places to arrest Amritpal. The search for Amritpal is intensified across the state. So on the other hand 78 members of 'Waris Punjab De' have been arrested by the police. Many supporters have also been detained. On the other hand, in view of law and order in Punjab, internet service has been stopped till 12 noon today.
What has happened so far in this case-
Amritpal Singh's convoy was stopped in Jalandhar district of Punjab, but he escaped by dodging the police.

Authorities tightened security at several places and suspended internet and SMS services in the state till Sunday afternoon.

Police said it has launched a "massive state-wide cordon and search operation (CASO)" against people linked to the 'Waris Punjab De' (WPD) led by Amritpal Singh.

Police said nine weapons, including one .315 bore rifle, seven 12 bore rifles, one revolver and 373 cartridges, have been recovered during the statewide operation so far.

Security has been tightened in Punjab with checking of vehicles at several places.

Several criminal cases were registered against Amritpal Singh. According to the police, a total of 78 people have been arrested so far during the operation, while several others have been detained for questioning.

A police spokesman said Amritpal Singh and some others are absconding and a massive operation has been launched to nab them.

This police action took place a day before Amritpal Singh's religious procession 'Khalsa Vahir' was to start from Muktsar district.

Heavy deployment of security forces has been made near Jallupur Kheda village of Amritsar, Amritpal Singh's native village for the campaign.

A police spokesperson said that people associated with the WPD were involved in four criminal cases related to promoting enmity between different classes, attempt to murder, assault on policemen and obstructing public servants in discharge of their duties.

Officials said radical preacher Amritpal Singh is believed to be a close aide of Britain-based Khalistani terrorist Avtar Singh Khanda.
read this also-
Punjab Police launches major action against 'Waris Punjab De', Amritpal Singh absconding, 78 people arrested
After all, who is Khalistani supporter Amritpal Singh, why is he called 'Bhindranwale 2.0'? Learn special things