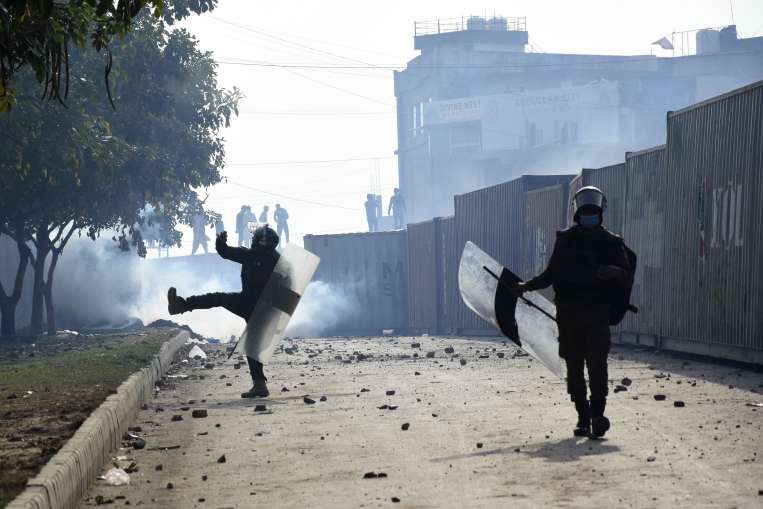 Pakistan News: The difficulties of former Pakistan PM Imran Khan are not taking the name of abatement. Pakistan's police have vandalized former Prime Minister Imran Khan and about a dozen leaders of his party Pakistan Tehreek-e-Insaf (PTI), attacked security personnel, created ruckus outside the court premises during the hearing of the corruption case against the former Prime Minister. An FIR was registered on Sunday under various sections of the Prevention of Terrorism Act on charges of involvement.
25 Pak security personnel were injured in a clash with Imran's supporters
Imran Khan had come to Islamabad from Lahore to appear in the much-awaited hearing of the Toshakhana case when a clash broke out between his supporters and security personnel outside the Islamabad Judicial Complex. 25 security personnel were injured during clashes between PTI workers and police on Saturday, following which Additional District and Sessions Judge Zafar Iqbal adjourned the hearing till March 30.
Case filed against several Imran supporters and activists
Geo News reported that an FIR has been registered against PTI workers and wanted leaders. The news channel reported that 17 PTI leaders have been named in the FIR lodged by the Islamabad police. The FIR states that the activists demolished the police check post and the main gate of the judicial complex.
According to the police, 18 people have been detained on charges of arson, stone pelting and damage to the judicial complex building. According to the FIR, "two police vehicles and seven motorcycles were torched and the official vehicle of the police station in-charge was damaged during the clash."
Imran Khan had come from Lahore to Islamabad to appear in the court. He was accompanied by his supporters in the convoy. PTI leader Fawad Chaudhary on Sunday said the party would file a case against the police officers who were involved in the "illegal action" and violence at Khan's residence.