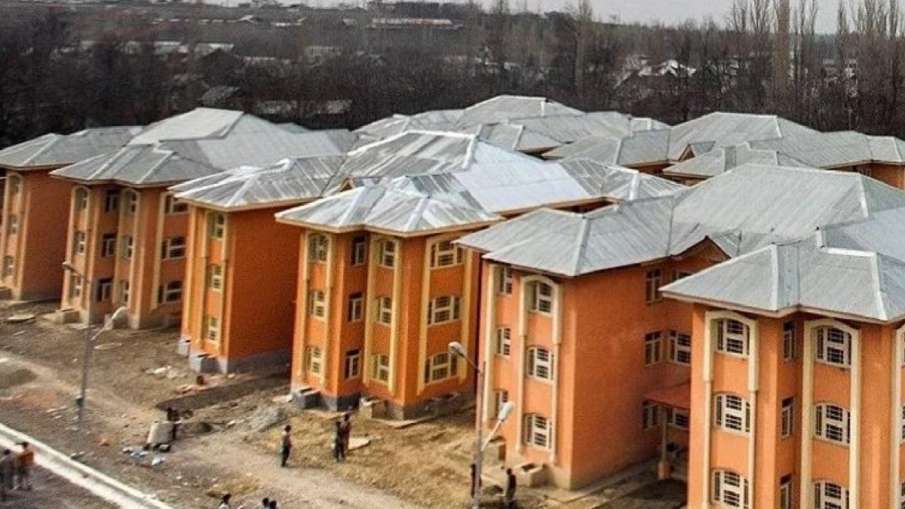 Baramulla: Half of the 320 flats in the colony being built for displaced Kashmiri Pandit employees getting jobs under the Prime Minister's Employment Package in Jammu and Kashmir's Baramulla district have been completed. Deputy Commissioner (Baramulla) Syed Sahrish Asgar said, "A new evacuee colony is being built at Khwajabagh at a cost of Rs 40.22 crore. We have spent Rs 35 crore. 10 blocks are ready for inauguration.
He informed that around 160 flats would be ready for inauguration by the end of the month. Asgar said, "A total of 320 flats are to be built. The construction of the remaining flats will be completed within two-three months. Steps are also being taken to provide other facilities. The colony has been built at a safe place." He said that the work of boundary wall of the colony would also start soon.
Asgar said, "The main focus of the Lt Governor's administration is to provide accommodation to those employees who have got jobs under the Prime Minister's Employment Package, who are not getting accommodation in the existing colony, so that they can discharge their professional duties in an uninterrupted manner." Displaced kashmiri pandit The employees have also expressed satisfaction over the project. Kashmiri Pandit Rohit Raina said, "It is a good thing that the colony is being built, but we cannot link it with rehabilitation. Rehabilitation is a big process. It would be a good step from the security point of view if all the migrant workers living on rent stay in the accommodation built at these safe places.
He said that safety for all is the biggest concern of this community. The Muslims of the area have also welcomed the construction of the colony. Tariq Ahmed, a local Muslim resident, said, "The construction of the Displaced Kashmiri Pandit Colony is a welcome step. We welcome our Pandit brothers to stay here as before, which reflects the decades old Kashmiriyat.
According to the Jammu and Kashmir administration, transit accommodation for Kashmiri Pandit employees is being built in Srinagar, Baramulla and Bandipora districts and construction of around 1,200 flats will be completed by December.