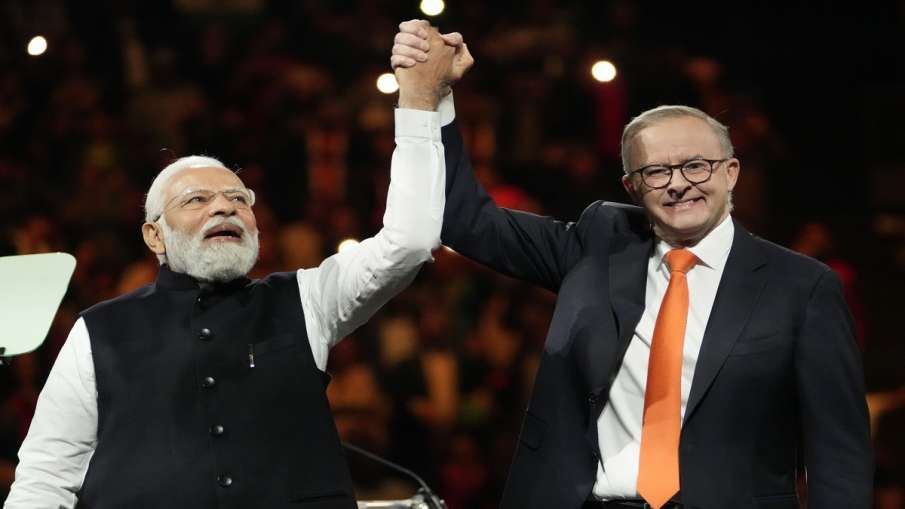 PM Modi in Sydney: PM Modi has been given a grand welcome in Sydney, Australia. Thousands of people have gathered in front of PM Modi at the Olympic Park Stadium and Australia's PM Anthony Albanese has become a fan of PM Modi. Praising the Indian Prime Minister, PM Anthony Albanese said that PM Modi is the BOSS. It is a pleasure to welcome them. Last time I saw Bruce Springsteen (Singer) on this stage and he also did not get the same welcome that PM Modi got.
What did PM Modi say?
PM Modi started his address by saying Namaste India to the crowd of thousands at the Olympic Park Stadium. During this, the entire Bharatvanshi society looked excited and people started raising slogans of Modi-Modi.
PM Modi said, 'When I came in 2014, I had made a promise to you. The promise was that you will not have to wait for another Prime Minister of India for 28 years. So here in Sydney, in this arena, I am with you again and I have not come alone. Prime Minister Albanese has also come with me.
PM Modi said, 'Little India is also a recognition of the contribution of the Indian community in the development of Australia. I am glad that many people from the overseas Indian community in New South Wales are actively participating in public life. I congratulate everyone. In the same year, I had the opportunity to welcome Prime Minister Albanese to Ahmedabad on Indian soil. Today he has joined me in unveiling the foundation stone of 'Little India' here. I express my gratitude to him a lot.
He said, 'Mutual trust and mutual respect have not developed only from India-Australia diplomatic relations. The real reason for this is that every Indian living in Australia. The real reason for this is the citizens of Australia.
read this also:
Maharashtra: Sanjay Raut's big statement, said- Thackeray army should get 19 seats, Congress angry
'Propaganda about ill-treatment of Manish Sisodia', know why Delhi Police said this on Sanjay Singh's allegations