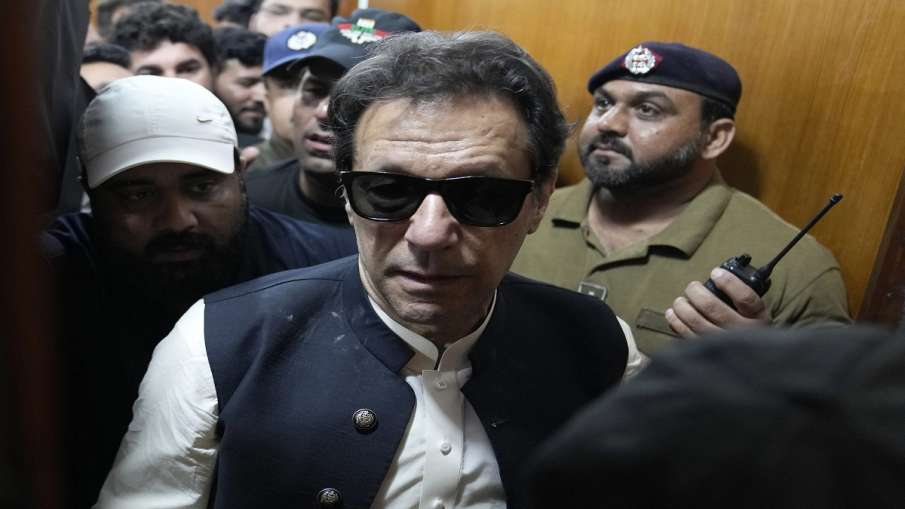 Lahore: Former Prime Minister of Pakistan Imran Khan will appear in the court of National Accountability Bureau (NAB) in Rawalpindi shortly. This hearing of Imran is taking place in the Al Qadir Trust case, in which Imran was arrested earlier as well and after that there has been a lot of ruckus. Later, after the intervention of the Supreme Court, Imran Khan has got bail but NAB has sent summons to him again. Imran has expressed apprehension of his arrest before the appearance but has appealed to his supporters to maintain peace.
Imran Khan Left from Lahore this morning for the hearing, during which the scene was completely changed. Last time Imran was accompanied by his supporters, but after the violence on May 9, thousands of Imran's supporters are either arrested or have gone underground to avoid arrest, so today a convoy of supporters is seen with him. not coming.
'80 percent chance of my arrest today'
Tell that on Imran Khan Pakistan The government and the army are constant aggressors. Sometimes sending heavy security forces to Zaman Park, sometimes trying to prosecute in army court, sometimes talk of imposing luxury tax for Zaman Park House, Imran Khan has started getting surrounded from many sides. At the same time, the leaders of his party have also started leaving him. While the Shahbaz government of Pakistan is leaving no stone unturned to break and divide the party. Meanwhile, Imran Khan has given a big statement on Monday. Imran Khan has said that there is an 80 per cent chance of his arrest when he is in Islamabad on Tuesday to seek bail in various cases.
'Opponents want to destroy my party'
Referring to violence and arson attacks on state buildings and army installations on May 9 following his arrest, Khan said the way they used the pretext of arson, they used that response after my arrest. Doing it to end the party. Claiming that hundreds of women and children have been jailed, the PTI chief said they are now trying to present us in military courts.
Read this also-
Imran Khan's party reached Supreme Court
On the other hand, Imran Khan's party PTI has reached the Supreme Court to avoid the army's court case. Imran Khan's Pakistan Tehreek-e-Insaf party (PTI) on Monday moved the Supreme Court against the trial of civilians involved in the May 9 attacks on military installations in military courts. PTI termed the government's decision as a "clear violation" of constitutional guarantees of due process and fair trial.