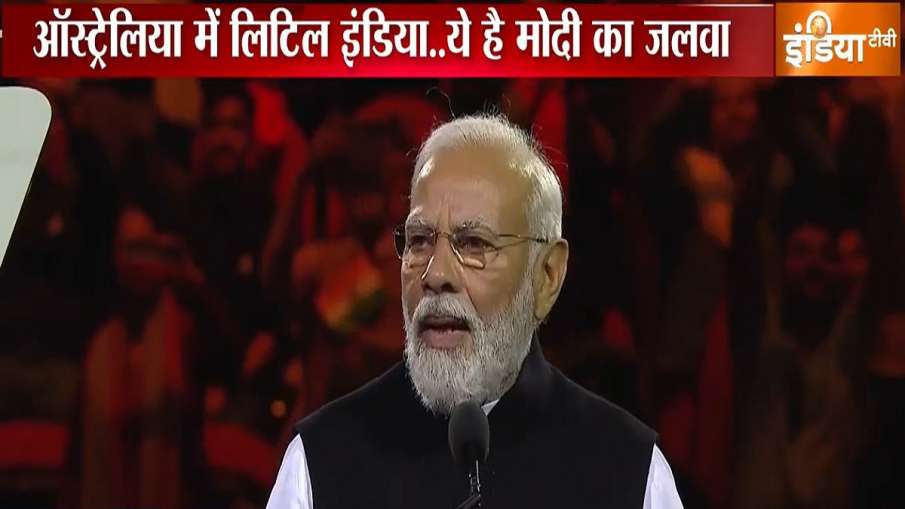 PM Modi in Sydney: The hours of waiting are over. Prime Minister Narendra Modi's mega show continues at Sydney's Olympic Park Stadium. Slogans of Jai Shri Ram, Bharat Mata Ki Jai and Har Har Modi are echoing across Sydney. People of the Indian community are seen everywhere in Sydney with the tricolor in their hands. There is so much enthusiasm among the people about Modi that several hours before the start of the program, a crowd of thousands had gathered. Today, Sydney's Harris Park was also named Little India from this stadium. At this time PM Modi is addressing the Indian community. Earlier, 'Welcome Modi' was written in the sky in Sydney to welcome PM Modi with the help of aircraft.
PM Modi's address in Sydney LIVE:
Prime Minister Narendra Modi started his speech by saying Namaste India. During this, the entire Bharatvanshi society was filled with enthusiasm. Slogans of Modi-Modi started being raised from all sides in the stadium.

When I came in 2014, I had made a promise to you. The promise was that you will not have to wait for another Prime Minister of India for 28 years. So here in Sydney, in this arena, I am with you again and I have not come alone. Prime Minister Albanese has also come with me – PM Modi

You took time out of your very busy schedule for all of us. This shows your affection towards us Indians. What you just said shows how much love Australia has for India – Modi

Little India is also a recognition of the contribution of the Indian community to the development of Australia. I am glad that many people from the overseas Indian community in New South Wales are actively participating in public life. I congratulate everyone – Modi

In the same year, I had the opportunity to welcome Prime Minister Albanese on Indian soil in Ahmedabad. Today, he has supported me in unveiling the foundation stone of 'Little India' here. I express my gratitude to him – Modi

Mutual trust and mutual respect have not evolved from India-Australia diplomatic relations alone. The real reason for this is – every Indian living in Australia. The real reason for this is the citizens of Australia – Modi

There was a time when it was said that the relationship between India and Australia is based on 3C (Commonwealth, Cricket, Curry). After that it was said that the relation between India and Australia is based on 3D (Democracy, Diaspora, Friendship)- Modi

Some people also said that the relationship between India and Australia is based on 3E (Energy, Economy, Education). This may have been true in different periods as well. But the extent of historical relations between India and Australia is much bigger than this. The basis of these relations is mutual trust and mutual respect – Modi

Our cricketing ties have also completed 75 years. The more interesting the competition on the cricket field, the deeper is our friendship off the field. This time many women cricket players from Australia also came to India for the first time to play IPL – Modi
Australian PM said – Modi is the boss
Earlier, Prime Minister of Australia Anthony Albanese praised PM Modi a lot in Sydney. Albanese said, "The last time I saw anyone on this stage was Bruce Springsteen and he didn't get the same reception that Prime Minister Modi got. Prime Minister Modi is the boss." During this the stadium echoed with slogans of Modi-Modi.
Thousands gathered in Sydney's Olympic Park

Australia People from different cities have reached Sydney to listen to the PM. There are a large number of small children and women in the crowd that came to see and hear him, while today PM Modi has a bilateral meeting with Australian PM Albanese. Earlier, PM Modi held a meeting with the CEOs of many big companies, in which CEOs of many big companies of Australia have participated.
Let us inform that PM Modi had reached Sydney, Australia on Monday. This is the last stop of PM Modi's three nation tour. PM Modi is on a tour of Australia from 22 to 24 May as the guest of the Australian Government.