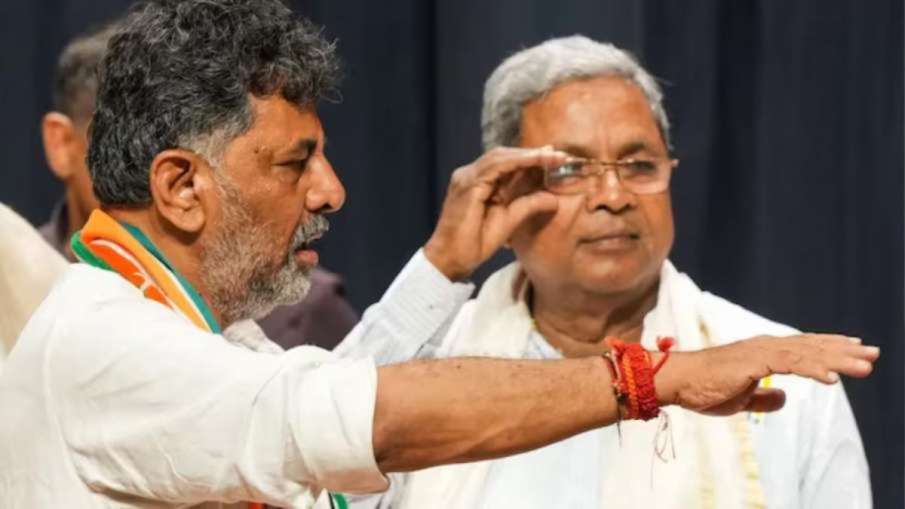 New Delhi: Chief Minister Siddaramaiah and Deputy Chief Minister DK Shivakumar have again reached Delhi after government formation in Karnataka. According to the information, both will meet the Congress high command regarding cabinet expansion in the state and allocation of portfolios to the existing ministers. In Karnataka, Siddaramaiah and Shivakumar were sworn in as chief minister and deputy chief minister respectively on May 20 along with eight ministers. However, portfolios have not been allotted to these ministers yet.
After the post of CM, the post of minister has become a headache.
According to Congress sources, the party high command had approved the first list of eight ministers in a meeting held in Delhi last week ahead of the swearing-in ceremony. However, there are plans to induct many more MLAs in the first cabinet. Sources said Siddaramaiah and Shivakumar reportedly had differences of opinion over some names during the discussion. For Siddaramaiah, the allocation of portfolios to new ministers and the formation of a cabinet that has representation from all communities, regions, factions and new and old generation legislators is a challenging task.
34 people can join the cabinet
The sanctioned strength of ministers in the Karnataka cabinet is 34. In view of this, many leaders are involved in the race to become ministers. Let us tell you that earlier there was a tug of war for the post of CM for many days. After several meetings and phone calls, Siddaramaiah was named the chief minister. Along with this, Karnataka Congress President DK Shivakumar was made the Deputy Chief Minister. According to sources, the high command has given Siddaramaiah the CM's post for two-and-a-half years. After this Shivakumar will be made the CM.