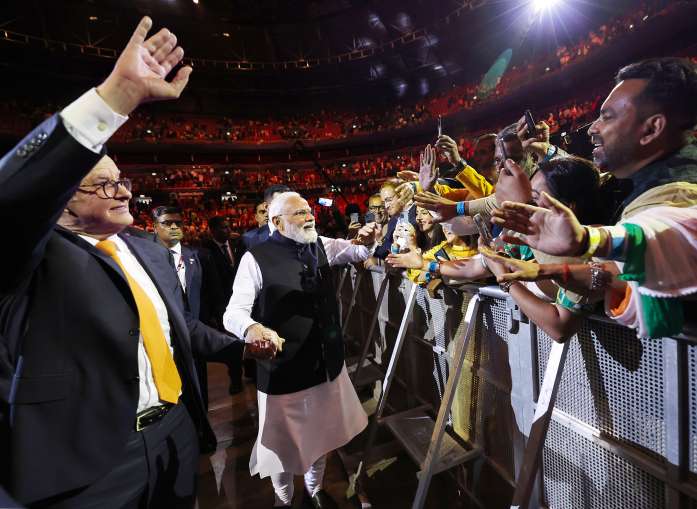 India's Prime Minister Narendra Modi's "mega show of popularity" in Australia has taken the whole world by surprise. Today an important bilateral meeting between PM Modi and Prime Minister of Australia Anthony Albanese is taking place. Earlier, Australian newspapers have also given him a place on the front page in honor of Prime Minister Modi today. Important Australian newspapers like "The Australian" and "Financial Review" have not only given a place to Prime Minister Modi on the front page, but have also praised his popularity and energy. "The Financial Review" wrote "Namaste Australia, Modi rocks Sydney".. while "The Australian" newspaper wrote that "Modi takes center stage in style to entertain as the boss". Similarly, other newspapers in Australia and abroad have also praised PM Modi.
Let us tell you that Prime Minister Narendra Modi said here on Tuesday that today the strongest and biggest foundation of India-Australia relations is 'mutual trust and mutual respect' and the credit for this goes to every overseas Indian and Australian citizen living in Australia. . A suburb was renamed 'Little India' on the occasion of Modi's visit, reflecting the strong ties between the two strategic partners. Prime Minister Modi, in the presence of his Australian counterpart Anthony Albanese, also announced the opening of the Indian Consulate in Brisbane while addressing the Indian diaspora at the Kudos Bank Arena here. The event was attended by around 21,000 people who came from different parts of Australia. During this, excited people also raised slogans of 'Modi-Modi'. Speaking on the occasion, Albanese said wherever Modi went, he was greeted like a 'rockstar' and none of the legendary singer Bruce Springsteen was treated like it is today.
India the shining star of the world economy
Describing India as a "force for global good" and a "shining star" of the world economy, Modi said, "Wherever disaster strikes, India stands ready to help." Recently, when the earthquake caused devastation in Turkey, India extended a helping hand through Operation Dost. He said that the strategic partnership between India and Australia is continuously deepening. "We expect bilateral trade between the two sides to more than double in the next five years after the signing of the Economic Cooperation and Trade Agreement last year," Modi said. Working on an economic cooperation agreement. We are building flexible and reliable supply chains.
This will give impetus to business on both sides and give new confidence to the world." Beginning his address with 'Namaste Australia' address, Modi said there was a time when India-Australia relations were defined as 'Triple C' ie Commonwealth. (Commonwealth), Cricket and Curry and then it was said that the relations between the two countries are based on 'Three D' i.e. Democracy (Democracy), Diaspora (Expatriates) and Friendship. Modi said that some people also said that India-Australia relations are based on 'Three E' i.e. Energy (Energy), Economy (Economy) and Education (Shiksha). He said, "Sometimes 'C', sometimes 'D' and sometimes 'E'. The scope of historical relations between India and Australia is much bigger than this.
read this also
America again praised PM Modi, said- India's "Guruji" is heavy on the world's 5G and 6G
Australian PM Albanese admired the Indian Prime Minister, said- 'Modi is the boss, welcoming him is a matter of luck'