Rudraprayag: 2 vehicles got damaged due to falling rock on Badrinath Highway after rain. It is a matter of honor that there was no loss of life in the incident. On the other hand, the Meteorological Department has issued a two-day alert. At the same time, it is snowing intermittently in Kedarnath Dham as well. Due to incessant rains in the mountains, hills have started collapsing at places on the Kedarnath and Badrinath highway. On Thursday morning, a rock cracked on the Badrinath Highway near Rudraprayag district headquarters and two vehicles were completely damaged after coming under the grip of boulders falling from the rock.
2 vehicles damaged due to falling rock on Badrinath Highway

Badrinath On the highway this afternoon near Makdi Bazar, a sudden rock slide came on the road, which engulfed two vehicles. Thankfully, none of the riders suffered serious injuries. No one was present inside the vehicle during the rock fall, otherwise a major accident could have happened. A rock broke on the Badrinath Highway near Rudraprayag district headquarters due to rain this morning. During this, a car and truck parked on the highway were damaged due to the impact of the rock.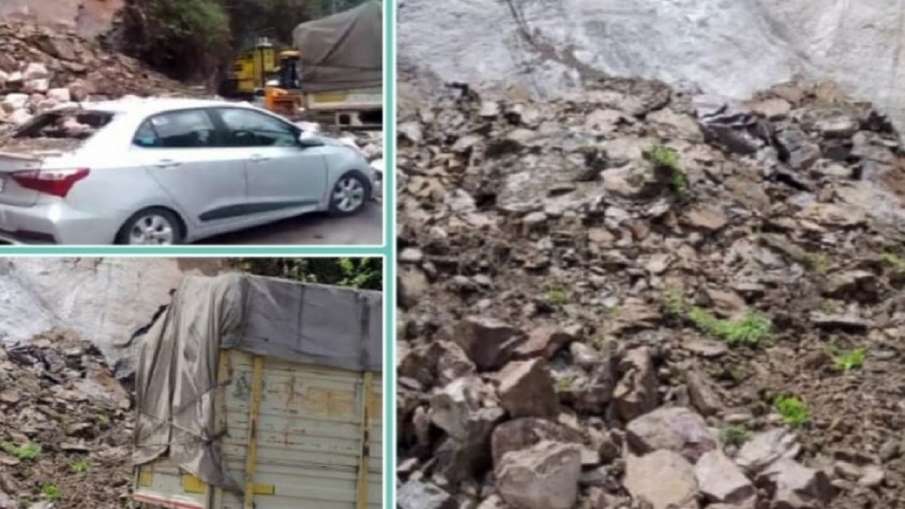 On the Kedarnath and Badrinath Highway, the hills started cutting at different places.
In-charge Kotwal Jaipal Singh Negi told that due to rain boulders and debris have fallen on the highway due to cracking of rock near Rudraprayag petrol pump. Two vehicles standing here came under its grip. There are problems in the movement of vehicles here. For this, debris and boulders are being removed through JCB machine. Chardham Yatra But the coming pilgrims will have to move carefully. A house on the same road also came under the brunt of the landslide.
journey continues in the rain
On the other hand in the mountains the weather is continuously bad. The Meteorological Department had issued an alert for 25 and 26 May. According to the warning of the Meteorological Department, it is also raining. It is snowing intermittently in Kedarnath Dham. While the rains continue in the low-lying areas. However, the yatra continues amid rains and devotees who have reached Kedarnath from different states are standing in long queues to have darshan of Baba Kedar.
Cold increased in Kedarnath Dham after snowfall
After the snowfall in Dham, the cold has increased a lot. This time Kedarnath Dham is receiving snowfall even in the last week of May, which is a record. Although the administration is on alert after the Meteorological Department's warning. Passengers are being sent to Dham in view of the weather. Also, passengers are being stopped due to bad weather. NDRF and SDRF personnel have also been deployed at various places for the safety of passengers.