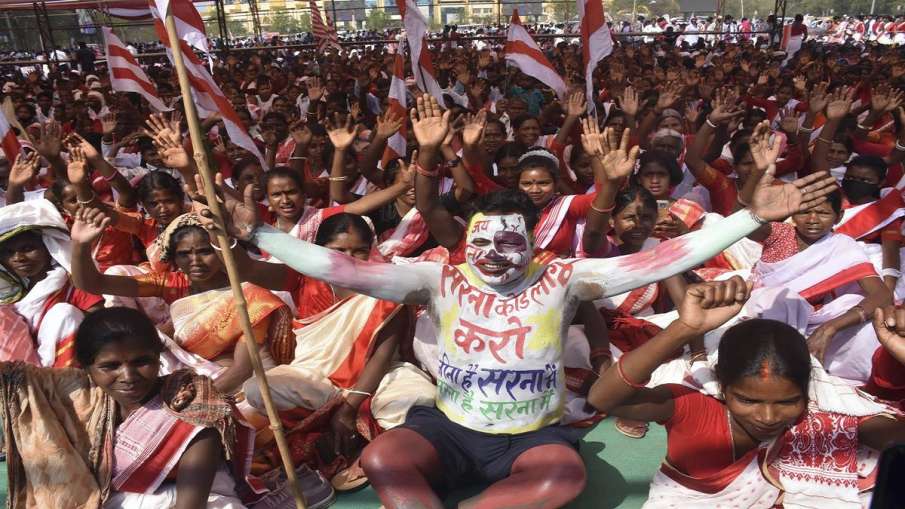 Ranchi: Jharkhand Chief Minister Hemant Soren has once again raised the demand for a separate religion code for tribals. He urged the visiting Jharkhand President to take initiative in this matter from his own end. Soren called it a demand related to the life and death of the tribals. On Thursday, the President was participating in a dialogue program with women associated with self-help groups in Khunti, Jharkhand. Chief Minister Hemant Soren was also present in this. During this, while addressing the President in his speech, he said that the Jharkhand Assembly has passed the Sarna Dharma Code and sent it to the Centre. It should be passed by the Parliament. A proposal has also been sent to the Center to include Ho, Mundari and Kudukh languages ​​of the tribal areas of Jharkhand in the Eighth Schedule. This too should be approved. Approval of these demands is necessary to save the existence of tribals.
What is Sarna Dharma Code?
In fact, the demand for Sarna Dharma Code for tribals has been rising for the past several years. Sarna's demand for religion code means that in the form that is filled for each person during the census to be held in India, a separate column should be made to mention the religion of the tribals, like all other religions. Just as people of Hindu, Muslim, Christian, Jain, Sikh and Buddhist religions mention their religion in the census form, similarly tribals can also mention their Sarna religion.
Who are the followers of Sarna Dharma?
in India tribal community A part of the population is not Hindu but follows the Sarna religion. According to them Sarna are those people who worship nature. Jharkhand has the largest population of 42 lakh people who follow this religion. These people call themselves worshipers of nature and do not believe in idol worship.
Jharkhand Assembly On November 11, 2020 itself, in a special session, the resolution demanding the implementation of the Sarna Dharma Code of the tribals was passed unanimously. This proposal was sent to the Central Government for approval, but no decision has been taken on it yet. Significantly, this proposal to enter a separate code for Sarna tribal religion in the census was brought by the joint partnership government of Jharkhand Mukti Morcha, Congress and RJD, which was also supported by the MLAs of the state's main opposition party BJP.
Bengal has passed the resolution
Bengal is the second state after Jharkhand to pass a proposal for a separate religion code for tribals. On February 17 this year, the TMC government passed a proposal by voice vote without any opposition to recognize the Sari and Sarna religious codes of the tribals in the Assembly.