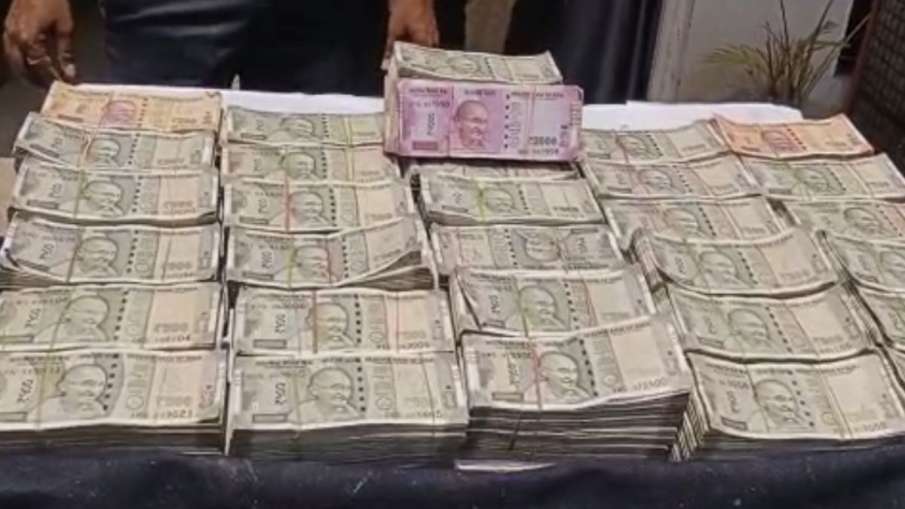 Nagpur Police has arrested the father of 1 vicious thief. This thief is so clever that he used to carry out theft incidents in Maharashtra and used to take the stolen goods, which used to contain jewelery and money, to Chhattisgarh. Let us tell you that 2 days ago, this thief fled to Chhattisgarh after stealing Rs 77.53 lakh from the house of Manish Vijay Kapai, living in Mankapur, Nagpur. The thief had hidden all this money by digging a pit in Chhattisgarh. The accused had hidden the entire stolen amount in Chhattisgarh's Rajnand village by digging two pits.
77.50 lakh rupees were dug out from the pit
The police got a clue of the accused named Naresh Akalu Mahilange that he is a resident of Rajnand village. When the police raided his house, he had already eloped with his girlfriend. Police has recovered 77.50 lakh stolen amount from his father by digging it out of the pit. The police have arrested Naresh's father Akalu Dudheram Mahilange. The police is actively searching for Naresh and his girlfriend.
Thief's father kept misleading the police
Police told that Naresh Kumar used to take all the goods after stealing in Nagpur and went to his home in Chhattisgarh, his father Ankalu knew that his son steals. Naresh's father kept trying to mislead the police despite all the information about the theft. After interrogation, the police caught him and brought him to Nagpur. Police is hopeful that absconding Naresh Kumar and Gayatri will be arrested soon.
King steals, father hides goods
Police found out the address of accused Naresh Kumar on the basis of intelligence, CCTV footage and fingerprints. By the time the police reached his house in Chhattisgarh, he had fled the house with Gayatri along with some cash. After questioning his father, it was found that the cash was buried in a pit inside the room. The vicious king used to steal and his father used to hide the stolen goods in the pit. Naresh has more than 26 cases of vehicle theft and burglary registered against him.
How to hide lakhs of stolen rupees
According to the information received from the police, Manish Vijay Kapai, a resident of Sai Baba Nagar, Nagpur, has a company selling medical equipment. The family had gone to Amritsar for a few days. Meanwhile, someone entered the bungalow and stole Rs 70 lakh in cash and jewellery. The thief burgled Kawai's house on May 17, he also stole a car, rode in it to a liquor vend and from there went to his girlfriend Pinky's house in Kalamna. Taking Pinky, he reached Rajnandgaon in Chhattisgarh and left the car near the railway track. Then from here he reached his father's house and separated the money kept in the sack and hid lakhs of rupees by digging a pit in his father's house.
Robinhood for the villagers, long list of girlfriends
Mankapur police have come to know that Mahilange is connected with many people in Rajnandgaon. The police were surprised when they reached him. Most of the people were poor and laborers. Mahilange gave him money from time to time. They had taken money from him to meet the needs of treatment, marriage, construction of house etc. None of them had returned the money to Mahilange. Mahilange had given ₹ 50000 to a handicapped beggar. He had a messianic image among many people of Rajnandgaon. The list of his girlfriends is also very long.
read this also-
The wait is over, CM Yogi sent an invitation to the public for the grand inauguration of the Ram temple
Jammu and Kashmir: Speeding truck rams into CRPF vehicle, two jawans injured