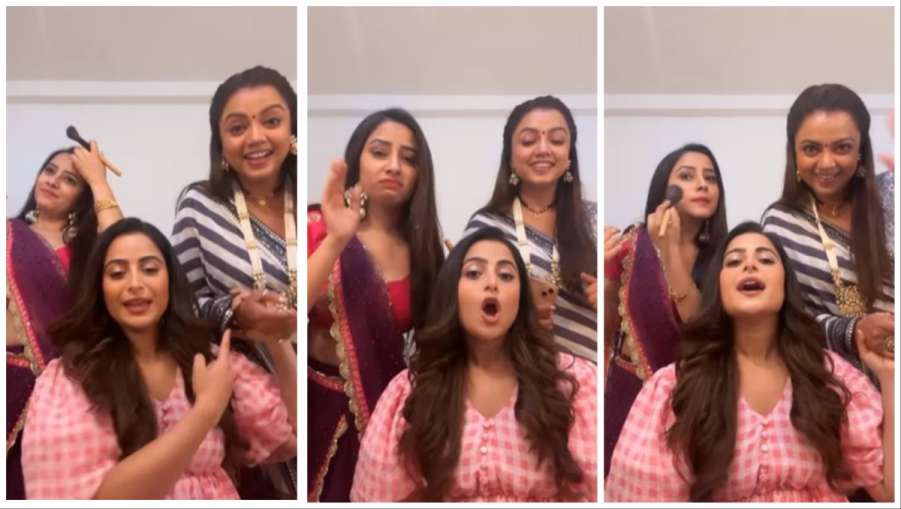 The starcast of 'Ghum Hai Kisi Ke Pyaar Meiin' (Ghum Hai Kisikey Pyaar Meiin) remains very active on social media. Aishwarya Sharma, who plays Patralekha in the serial, is followed by more than 1 million people on Instagram, with whom she often shares her funny videos. Talking about the story of the serial, after the festival of Holi, there is turmoil in Pakhi's life. In Holi, in a drunken state, Virat Chavan had refused to call Patralekha his wife and was calling Sai his wife in front of her. After which Patralekha's anger is on the seventh sky.
Patralekha forgot Sonali Kaku's name
Now Patralekha has shared a video on Instagram with Karishma and Sonali Kaku, seeing which the fans say that Pakhi has lost her mental balance. Actually, Aishwarya Sharma has shared a video in which she introduces fans to her friends. In the video, Patralekha names Sonali Kaku standing behind her as Kavya, but gets Karishma's name correct. In such a situation, when this video went viral, the fans started making funny comments on it. Fans are liking this funny style of Aishwarya Sharma. In the video, Aishwarya Sharma along with Sneha who plays Karishma in the serial and Sheetal Maulik who plays Sonali Kaku are also seen having fun.
There is a rift between Patralekha and Sai
This is not the first time that Aishwarya Sharma has shared a video with Sneha and Sheetal Maulik. Even before this, these actresses have shared funny videos together on social media. Commenting on Aishwarya Sharma's videos, fans also say whether she is jealous of Ayesha Singh in real life as well, who does not share any videos with her. Talking about the story of Star Plus' popular serial 'Gum Hai Kisi Ke Pyaar Mein', there has been a twist in the story since the recent entry of Dr. Satya. According to the news, the love story of Satya and Sai can be shown in the serial.
Read also: Ghum Hai Kisikey Pyaar Meiin: Sai Joshi becomes crazy about Satya, Virat will be jealous after seeing the chemistry in the video
Sara Ali Khan sometimes cooked food on the stove and sometimes cooked Maggi on gas, showed her anchoring skills in the video
April 2023 Movie Release: From 'Gumrah' to 'PS 2', these 5 big budget films are releasing in April