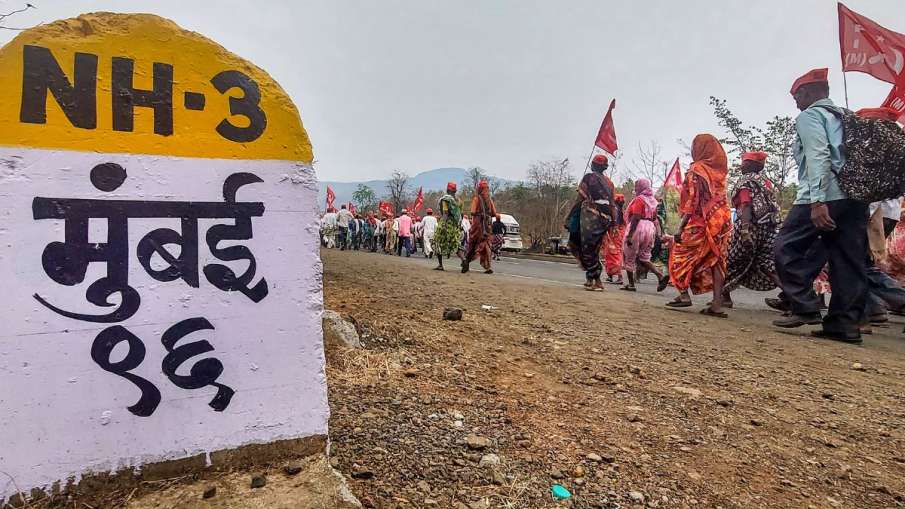 Thane: A 58-year-old farmer, who was involved in the Mumbai march of thousands of farmers and tribals from Maharashtra's Nashik district, has died. According to reports, Pundalik Ambo Jadhav, a resident of a village near Dindori in Nashik, was taken to a hospital in Shahpur on Friday afternoon after he complained of uneasiness. This farmer was a resident of Maudi village in Dindori tehsil of Nashik district. The farmer was admitted to the hospital on Thursday after suffering a mild stroke.
health deteriorated again after recovering
the doctor Farmer After examining him, he was given medicines, after eating which he was cured and joined the pilgrimage again. The deceased farmer was staying at Vashind Idgah ground along with his other fellow farmers for the last one and a half days. He was again admitted to the hospital late Friday night after feeling restless and vomiting, where he died during treatment. After the death of the farmer, a case of accidental death has been registered and his body has been sent for postmortem.
Jadhav was involved in the movement from day one
After the death of the elderly farmer, farmer leader JP Gavit told India TV that even though he may not have died while walking in the long march, he was involved in the movement from day one. He said, 'He had come from Nashik to Vashind on foot. Jadhav was staying at Idgah Maidan along with other farmers where his health deteriorated. That is why we can say that he has sacrificed his life in the fight for the rights of his fellow farmer brothers. Please tell that the son of an elderly farmer had reached the Vashind Idgah ground on Friday.
Son came to send back sick father
The farmer's son had said that his father is ill now, so he will return to the village and take his place in the movement, but he passed away before returning to the village. Tell that on March 13, more than 10 thousand farmers had left for Mumbai from Dindori tehsil of Nashik. Till now these farmers have walked for about 100 kms. During this, more than 250 farmers have got injured in their feet while some have also become victims of dehydration.
Ambulance keeps moving with the farmers
During this march of the farmers, an ambulance used to run along with it continuously. All the farmers who were injured during the march were immediately admitted to the hospital for treatment. At present, an ambulance is stationed in the Vashind Idgah ground where so many farmers are staying. Farmer leaders say that until the government does not implement its assurance on the ground, they will remain firm in Vashind Maidan.