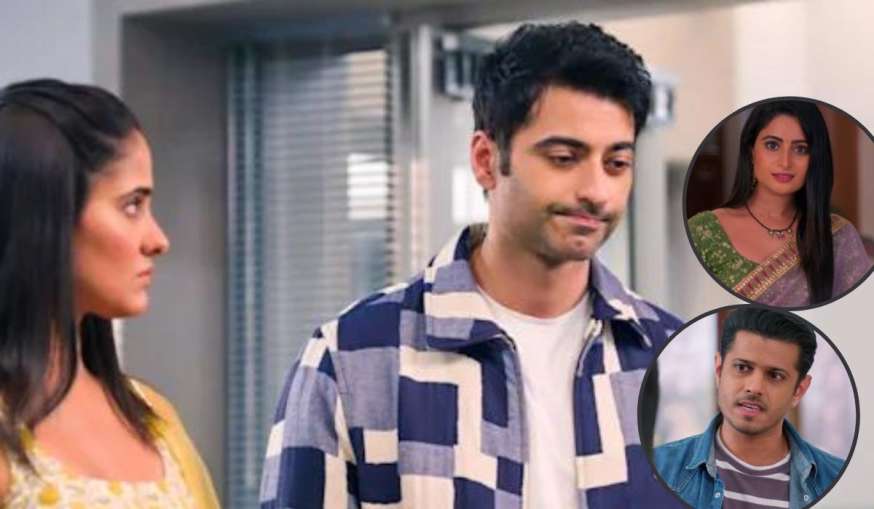 Sai takes Vinayak to her hospital cabin and teaches him how doctors work. Sai slips off the bed when Satya catches her. She shouts how dare he touch her. He drops her down and she sprains her leg. Satya asks Vinu are you Sai's son. Vinu says that she is his doctor aunty and not mamma.
Satya molested –
Satya asks Vinu to persuade his doctor aunty. Sai agrees to Vinu's insistence and sits on the bed again. Satya asks Vinu to help him. Sheetal records his video. Satya keeps Sai busy talking about Vinu so that he can fix his sprain. Sai cries out in pain, but feels better after getting well. Satya keeps on flirting with Sai.
Virat gave surprise
Vinayak tells Pakhi that he is at Doctor Aunty's hospital and is learning a lot and having fun. He hangs up saying that he has to go somewhere with Doctor Aunty. Virat decorates his room with flowers to have a romantic moment with Pakhi. Pakhi calls her and shouts how dare she send Vinu with Sai without her permission. Virat says it was necessary for Vinu's project.
Pizza Party –
Virat arranges a poolside pizza party for Savi, Sai and Vinu. Vinu asks Sai how was her day. Virat asks Sai if Satya has harassed her then how can she let him go with Vinu. Sai says its a long story. Virat sees the video and says that he is the one who bumped into her the other day.
Pakhi gets a surprise
Pakhi returns to her room and gets happy seeing the room decorated. She does not find Virat and Vinu around and wonders if they are in Sai's room. She doesn't find anyone there too and thinks Virat must have overheard her and sent Sai and Saavi somewhere else.
Precap: Satya goes to the market with his mother for Gudi Padwa festival shopping and meets Sai there. He introduces her to his mother. Maa asks Sai if she is not married. Seeing Sai's dupatta stuck in the wheel, Virat pulls her aside. The mother mistakes him for a roadside hooligan and scolds him.
read this also-
Whose hand was behind the death of DJ Azex, the family revealed
Kartik Aaryan is about to get married! The actor posted the information, know who will become the bride of Shahzade
Desi Vibes with Shehnaaz Gill: Sara Ali Khan's entry in Shehnaaz Gill's show won the hearts of fans, watch the video