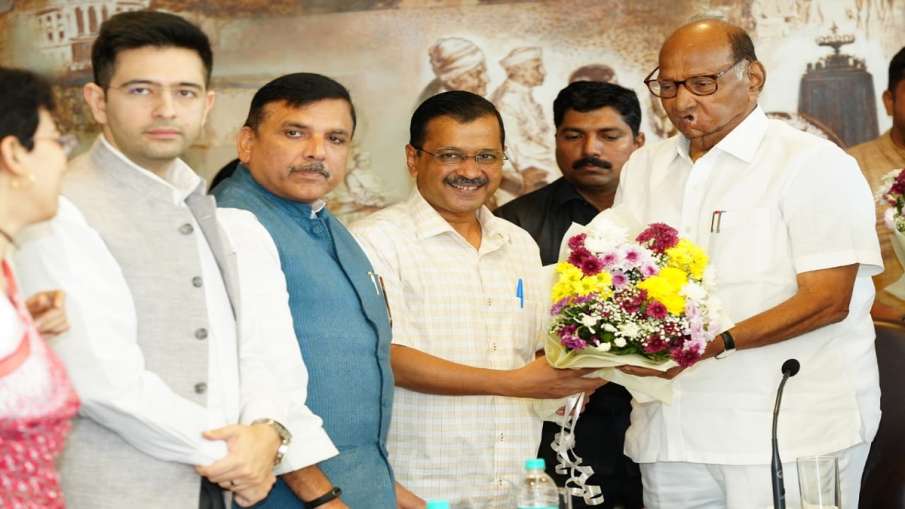 Mumbai: The Nationalist Congress Party (NCP) has joined Chief Minister Arvind Kejriwal in his fight against the BJP-ruled Center's ordinance on deregulation of services in Delhi. He has sought support from NCP President Sharad Pawar in Mumbai. Kejriwal was accompanied by Punjab Chief Minister Bhagwant Mann when he met Pawar at the YB Chavan Center in south Mumbai. Kejriwal has come on a two-day visit to Mumbai.
Kejriwal thanked Sharad Pawar

Sharad Pawar After the meeting, Kejriwal tweeted, "We all together have to stop the black ordinance brought by the Modi government in Parliament against the people of Delhi." Had a meeting with senior NCP leader Mr. Sharad Pawar in Mumbai today on this subject. NCP and Pawar saheb will support the people of Delhi in Rajya Sabha. On behalf of the people of Delhi, I thank NCP and Mr. Pawar from the bottom of my heart. Together we will fight this battle to save democracy.
Uddhav-Mamata have already announced to support in Parliament
Earlier Uddhav Thackeray and Mamata Banerjee Have announced to support in Parliament. Kejriwal had on Wednesday met former Maharashtra CM and Shiv Sena (UBT) chief Uddhav Thackeray at his Bandra residence. During the meeting, he had sought their support for AAP's fight against the Centre's ordinance on Delhi. Kejriwal and Mann met their West Bengal counterpart Mamata Banerjee in Kolkata on Tuesday as part of their nationwide tour to drum up support for AAP's fight against the Centre's ordinance.
Read this also-
What is in the ordinance of the central government?
The central government came out with an ordinance on May 19 to set up the National Capital Public Service Authority for transfer and administrative action against officers of the Indian Administrative Service (IAS) and DANICS cadre. A week before this, the Supreme Court had handed over the control of the services to the elected government of Delhi in all matters except police, civil service and matters related to land. An ordinance needs to be approved by the Parliament within 6 months. It is believed that the central government may introduce a bill related to this ordinance in the monsoon session of Parliament.