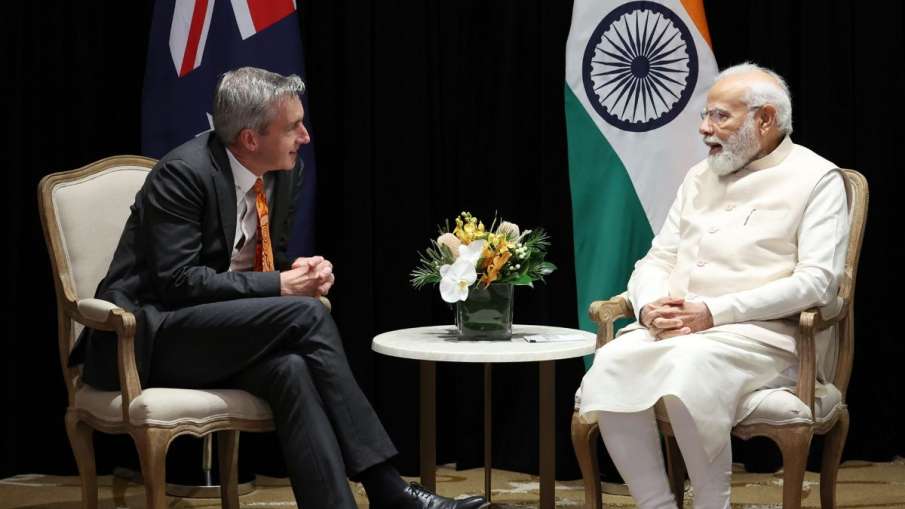 Prime Minister Narendra Modi (PM Modi) has reached Australia in the third leg of his foreign tour. Prime Minister Narendra Modi's visit to Australia is considered very important amid the challenges of the global economy and fears of recession. The Parliament of Australia has recently approved the Free Trade Agreement (FTA) with India. This is the Prime Minister's first visit to Australia after this major change.
In the midst of his tour, Prime Minister Narendra Modi met industrialists of leading Australian companies on Tuesday. During this, he called for increased cooperation with Indian industry in areas such as technology, skills and clean energy. Modi reached Sydney on Monday as part of the last leg of his three-nation tour. During this he will hold talks with his Australian counterpart Anthony Albanese. Apart from this, he will also participate in a community program of the Indian diaspora.
Will meet these veteran businessmen
The Indian Prime Minister is visiting as the guest of the Australian Government. Modi held bilateral meetings with Hancock Prospecting Executive Chairman Gina Rinehart, Fortescue Future Industries Executive Chairman Andrew Forrest and AustralianSuper CEO Paul Schroder on the sidelines of the industrialists' meet. In New Delhi, the Ministry of External Affairs said in a statement that during his meeting with Rinehart, the Prime Minister highlighted the reforms and initiatives being taken in India.
Investment possibilities in these sectors in India
Modi invited them to partner in technology, investment and skills in the mining sector. In the meeting with Schröder, Modi said that India is one of the most preferred economies for foreign investment in the world. He invited AustralianSuper to invest in India. Similarly, during the meeting with Forrest, the Prime Minister welcomed the group's plans to work with Indian companies in the field of green hydrogen. During this, he mentioned initiatives like the Green Hydrogen Mission. Forrest briefed the Prime Minister about Fortescue Future Industries' projects in India.
Opportunities will be available in infrastructure sector
After the meeting, Schroder said that AustralianSuper invests in India, and specifically in the Indian National Infrastructure Fund. "Our experience investing in India has been great," he said. Forrest said he and the prime minister agreed that the fossil fuel sector now has a limited time and must be replaced with fuels that are more sustainable. Does not harm the environment. Rinehart said that there are huge business opportunities between India and Australia.