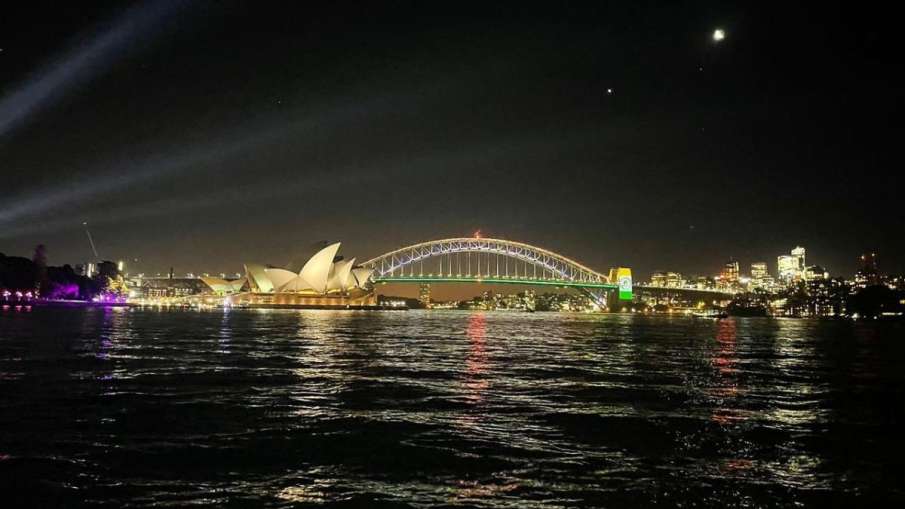 Pictures of Sydney Harbor and Opera House bathed in the tricolor before Prime Minister Narendra Modi's visit to Australia are going viral. The pictures show that the relationship between India and Australia is continuously deepening. Enemy countries are surprised by the strengthening of bilateral relations between the two countries. Sydney Harbor and Australia's famous Opera House were bathed in tricolor lights in honor of PM Modi and India. This scene also tells the story of the personal friendship between Prime Minister of Australia Anthony Albanese and PM Modi. Today, when PM Modi and Albanese held bilateral talks, many important issues were discussed during this.
Prime Minister Narendra Modi seriously raised the issue of attacks on temples in Australia and the anarchy of Khalistanis. PM Modi said that these acts cannot be tolerated. On this, PM Albanese of Australia has assured to stop such incidents keeping in view the concerns of India. After this, PM Modi also met Australia's Leader of the Opposition Peter Dutton on Wednesday. A statement issued by the Indian Prime Minister's Office (PMO) said Modi appreciated the strong bipartisan support the India-Australia Comprehensive Strategic Partnership has received.
Albanese is convinced of PM Modi's popularity
Australian PM Anthony Albanese is convinced of the popularity of Prime Minister Narendra Modi. Albanese was overwhelmed even after seeing the crowd of people gathered at PM Modi's program on Tuesday. He called PM Modi the real boss. Both the leaders held bilateral talks on various issues. India and Australia have agreed to partner on all issues of security and cooperation. According to the PMO, various aspects of the bilateral partnership, including people-to-people relations, were also discussed during the discussion with the Leader of the Opposition. During this, regional developments were also discussed. Prime Minister Modi is on a visit to Australia from 22-24 May as a State Guest. Modi held bilateral talks with his Australian counterpart Anthony Albanese on Wednesday. Earlier on Tuesday, he also addressed a program of overseas Indians. During his visit, Modi also met several dignitaries from Australia.