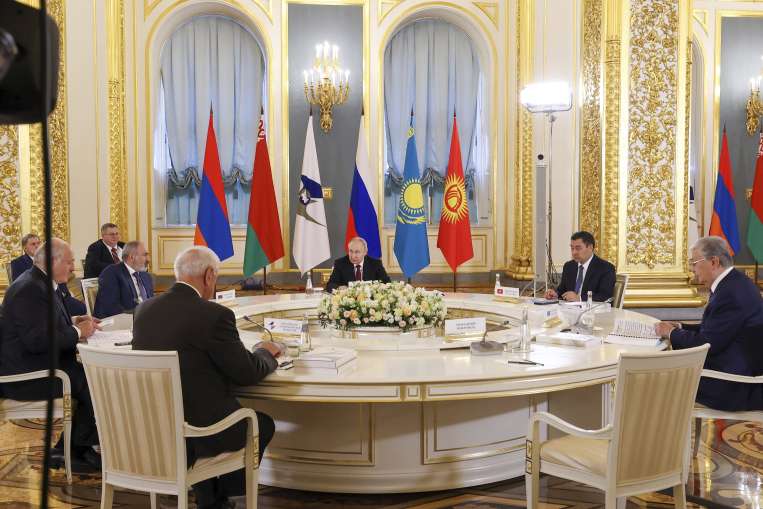 It has been almost 15 months of war in Russia and Ukraine, but no solution has been found so far. Both the countries have suffered huge loss of life and property in the war, but neither country is ready to bow down to each other. President Putin and Ukraine's President Zelensky have also not been able to move forward on peace talks despite requests from countries like China and India. However, you would be surprised to know that Putin, who is shedding rivers of blood in the Ukraine war, has now been successful in ending the long-standing bloody conflict in Armenia and Azerbaijan. The leaders of Armenia and Azerbaijan along with Putin have claimed to have moved on the path of peace after the talks.
Russian President Vladimir Putin said on Thursday that there are "only technical" obstacles to resolving one of the main disputes between neighboring Armenia and Azerbaijan fighting over a disputed territory. Rest of the issues have been resolved. Putin met with President of Azerbaijan Ilham Aliyev and Prime Minister of Armenia Nikol Pashinyan in Moscow and discussed with them the dispute over the Lachin Corridor. It is the only authorized link between Armenia and the disputed region of Nagorno-Karabakh and a lifeline for supplies to some 120,000 people in the region. At a regional summit hosted by Putin in Moscow, Aliyev and Pashinyan sparred with each other over the corridor. Putin then said there was "an agreement on key issues" and later added that there were disputes on "technical issues".
There will be no war between Armenia and Azerbaijan
According to Russia's official news agency 'Tas', Pashinyan said on Thursday, "I want to confirm that Armenia and Azerbaijan have agreed to mutually recognize each other's territorial integrity and on this basis we Can say that we are moving towards normalizing our relations. "" Significantly, Armenia and Azerbaijan fought in 2020 over Nagorno-Karabakh in which more than 6,000 people died. This fight ended in the mediation of Russia. Nagorno-Karabakh borders Azerbaijan but ethnic Armenian forces backed by Armenia have held the region and its surrounding areas since 1994. Azerbaijan continues to allege that Armenia has used the Lachin Corridor to transport arms and ammunition to Nagorno-Karabakh.
read this also
"China was about to raze America", plan to hack infrastructure including US rail network
Something big is going to happen between India and America, Defense Minister of USA is coming to Delhi before PM Modi's visit